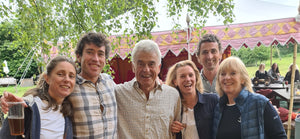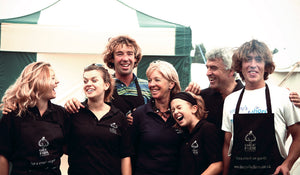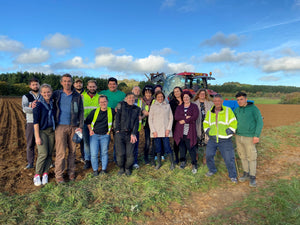 A Family Business Grown from the Love of Garlic
Three generations of garlic growing on the Isle of Wight
We've been growing garlic on the Isle of Wight ever since Granny Norah planted those first few cloves in her garden over 60 years ago. We have spent the many years since exploring its history and origins, experimenting with the many different varieties here on "the Island" and creating a range of garlic infused products from garlic mayonnaise to garlicky chutneys and from black garlic beer to garlic ice cream.
The Garlic Farm Family
The Garlic Farm is a family business which is owned and run by the Boswell family who have all spent many years enjoying, exploring and learning about all things garlic. Colin and Jenny live in the farmhouse on site and have five children (Oliver, Natasha, Hugo, Josephine and Alexa) and nine grandchildren…and counting… All the Boswell children have worked at the farm growing up and now Colin and Jenny's eldest daughter Natasha and her husband Barnes oversee the day-to-day business operations while their son Hugo and his wife Melanie take care of the farm site, the holiday cottages and luxury yurts. Natasha has written three books about cooking with garlic and its amazing health benefits and Josephine re-joined the business in October 2023, having spent many years running The Garlic Farm Field Kitchen serving garlic-inspired food to hungry festival goers.
The wonderful and dedicated Garlic Farm team is growing with the business and reaches up to 100 people in the height of the summer season. The family and team are all committed to bringing garlic flavour, inspiration and information to visitors to the farm and all those who enjoy the range of Garlic Farm products across the UK.
Our Farm Ethos
Our ethos as a business is to generate a 'net positive' outcome across all our core values. For this reason, we have certified all the farmland we own as organic with the Soil Association and engage in farming practices that aim to leave our land and environment in better condition than when we found it. We are focused on long term goals, sustainable growth, being a great place to work and an educational place to visit.
We use local suppliers wherever possible while seeking the best quality products and garlic we can find. For this reason, we grow as much garlic as possible in the rotational land we have available and we also work with growers in Europe and USA to source quality varieties from our garlic growing friends. We work with specialist producers for all our garlicky products as well as making products on site wherever possible.
We are pleased to be a Certified B Corporation. Our journey with B Corp began in 2018 and has been quite a ride so far! Read more about our Ethics, Ethos and Projects on our Blog Page.