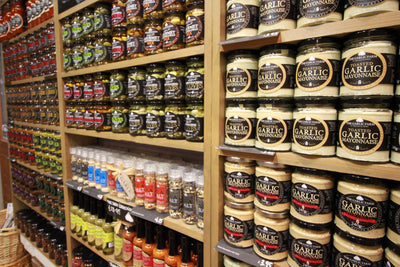 In our farm shop you can find our entire range of Garlic Farm products including fresh garlic, smoked garlic, black garlic, pickles, chutneys, mayonnaises, ketchups, dressings & sauces as well as our garlic beer and garlic butters. You can also explore our full range of products in our online shop here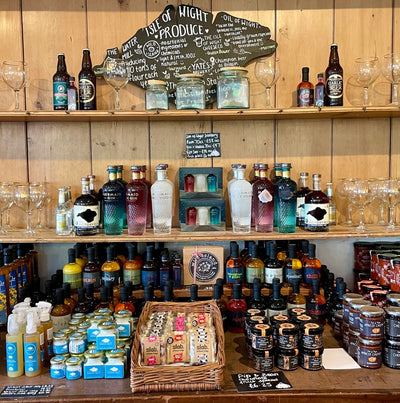 We have lots of amazing producers of quality food and drink here on the Isle of Wight. In our shop you'll find local milk, butter, cheeses, flour & grains, jams, honey, gin, beers, ales, cider, dressings, mustards, salts, tomatoes, mushroom extracts as well as locally made beauty products. You can find some Isle of Wight produce to order online here.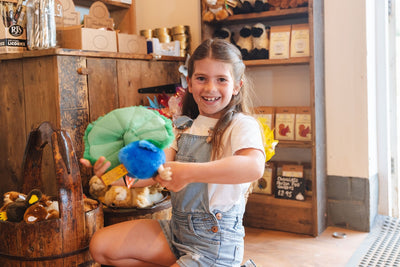 If you're searching for the perfect unusual gift you'll find something for everyone at our shop. We have a range of homewares, dog toys & treats, children's toys & games, sweets, chocolates, local artists creations, locally made jewellery and kitchenwares. We focus on sourcing high quality goods from local businesses wherever possible. Some of our Garlic Farm gifts can be purchased online here.
Farm Shop open daily 9am to 5pm
Garlic, garlic & more garlic
Visit our farm shop in Newchurch, Isle of Wight to find a treasure trove of garlic flavours including all our garlicky delights from fresh garlic, chutneys and sauces to garlic butter and even garlic beer.
We have shelves full of Isle of Wight artisan food products from all our fellow Island food & drink producers and lots of unusual gifts.
We always have a selection of garlicky products to taste and you can find information on growing, cooking and garlic-for-health around the shop and farm walks.
Our friendly team are on hand to answer all your garlicky questions.
Check our calendar for workshops, events & seasonal opening times