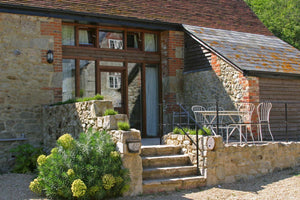 Your widget will appear here.
A beautiful, well equipped holiday cottage in the heart of the Island
Kiln Cottage is part of Little Mersley Barn built in 1802, facing the Downs and completed in 2007.
Ground Floor: Very large open-plan kitchen, dining room and living room with well equipped kitchen and tasteful mixture of modern and traditional furnishings. Bathroom/utility room with shower and toilet. Upstairs: Double bedroom with exposed beams and en-suite bathroom with bath tub. Twin room and separate bathroom with bath tub.
Breakfast and evening patios on either side of the cottage enable guests to take full advantage of the glorious situation.
GENERAL Smart TV, Central heating, Wi-Fi
UTILITIES Dishwasher, Cooker, Microwave, Fridge, Freezer, Washing machine
ROOMS 2 bedrooms, 3 bathrooms (baths x 2, downstairs shower x 1)
FURNITURE Double beds (1), Single beds (2) Dining seats for 4, Lounge seats for 4, sofa bed
OTHER Linen provided, Towels provided, High chair, Cot
OUTDOORS Private patios front and rear, outdoor furniture, BBQ
ACCESS Parking up to 2 cars
PETS Dogs welcome. 1 maximum, no exceptions. £25.
From our customers
★★★★★
Here are some testimonials
The Kiln this time and loved it even more than our first stay!


July 2022
We absolutely LOVED staying at Kiln Cottage and the Garlic Farm. What an amazing place to chill out for a couple of days. The cottage was clean, comfortable and beautiful.

May 2022
We have stayed at the Garlic Farm several times and always thoroughly enjoy it. The staff are always very helpful and polite in the farm shop and restaurant and the food is excellent.

March 2022
We had lovely short break at Kiln Cottage in Jan 2022. We would definitely recommend staying there to friends and family.

March 2022
Explore our best selling products.