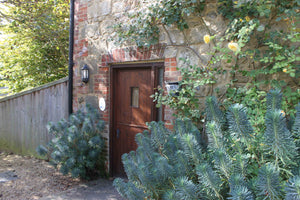 Your widget will appear here.
Part of the old threshing barn
A Spacious Historical Cottage
Mill Cottage is the southern half of Little Mersley Barn, built in about 1720 and used as a mill in the 19th century. The original mill stones can be seen in the entrance to Mill Cottage.

The kitchen-dining room has a gallery with steps down to the separate sitting room below which opens out onto a patio.
The downstairs bedroom has a walk-in large shower in the en-suite bathroom and separate vehicle access to the rear of the property. Upstairs is one double room with en-suite bathroom with a bath. There is also a twin bedded room and a separate bathroom with shower.

GENERAL Smart TV, Central heating, Wi-Fi
UTILITIES Dishwasher, Cooker, Microwave, Fridge, Freezer, Washing machine
ROOMS 3 bedrooms, 3 bathrooms (3x toilets 2x showers 1x Bath)
FURNITURE Double beds (2), Single beds (2) Dining seats for 6, Lounge seats for 6
OTHER Linen provided, Towels provided, High chair, Cot
OUTDOORS Private garden, Outdoor furniture, BBQ
ACCESS Parking
PETS Dogs welcome. 1 maximum, no exceptions. £25.
From our customers
★★★★★
Here are some testimonials
This was our second family holiday in this cottage (so you can tell we like it!). It is well equipped with a comfortable outdoor-seating area that overlooks a grassy play area which is great for overseeing our children playing. The location is great - we love The Garlic Farm itself and had a delicious breakfast during our stay.

August 2022
Have visited the Garlic Farm shop meany time but have never stay at the holiday accommodations before however would recommend it what a wonderful place to stay very
comfortable for myself and family quiet and beautiful even in February

February 2022
This was a great place for a short break in a very comfortable cottage on this delightful farm with a very good restaurant for breakfast: brunch. Lovely walks along well maintained paths with beautiful views. Very peaceful location with good amenities including a farm shop selling garlic of course.

October 2021
Beautiful setting, lovely and clean, great to have a bathroom per each couple

May 2022
Explore our best selling products.